ANCIENT MAGNESIUM™
A Genuine Good Health Naturally Product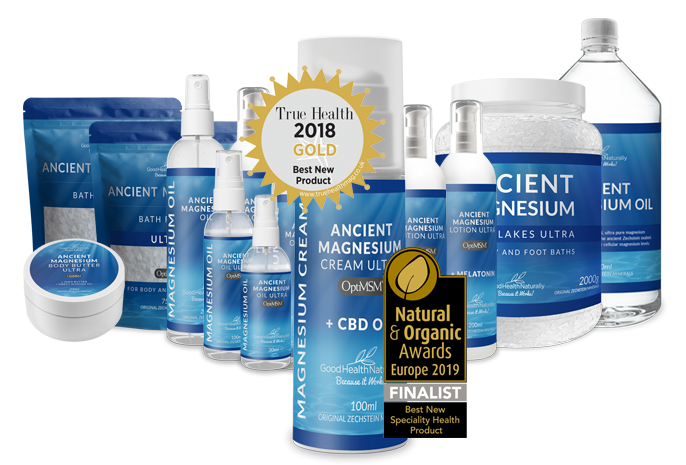 From the depths of the ancient Zechstein Sea, we bring you our brand NEW Ancient Magnesium range made using only the purest Zechstein magnesium chloride. This highly potent, 'ultra pure' magnesium chloride is extracted from the ancient Zechstein Seabed, approximately 2km beneath the surface of the earth.
UNRIVALED FOR PURITY & QUALITY
Some 250 million years ago, the Zechstein Sea was a concentrated saltwater sea, with many of the characteristics of the Dead Sea today. Magnesium chloride, a natural magnesium salt, was plentiful in this sea and concentrated by a combination of flooding by sea waters and slow evaporation. Over time, these dense waters found their way deep into underground deposits slowly accumulating through fissures in the earth over millions of years, trapped underground by overlying rock. Though the Zechstein Sea itself no longer exists today, the Zechstein salt beds are a perfectly preserved snapshot of pure magnesium chloride as it existed in its natural state, millions of years ago.
Zechstein magnesium chloride is known as the original, gold-standard transdermal magnesium and used by trusted professionals.
What is transdermal magnesium?
Ancient magnesium products offer a convenient form of transdermal magnesium, meaning "through the skin". Transdermal is nothing new, as many examples can be found throughout the centuries and from different cultures. Transdermal is an easy "do it yourself" method of magnesium supplementation.
Magnesium is our fourth most abundant mineral, and we can't live without it. We may need more magnesium during pregnancy and lactation and in times of stress or injury.
What about getting magnesium from food?
Some of the richest sources of magnesium (per serving) through food include: mackerel, spinach (boiled), artichokes, okra (boiled), quinoa, almonds, cashews, and pumpkin seeds. However, most of us don't meet our Recommended Daily Amount (RDA) because of agriculture, soil, and diet changes over the last century.
Adults, children, pregnant women, nursing mothers and the elderly need a steady supply of magnesium daily.
MAGNESIUM: The Most Important Mineral has seen a
60% REDUCTION IN FOOD IN THE PAST 50 YEARS.
What about powders and tablets?
Not all types of magnesium deliver the same benefits. Magnesium oxide, the most common form sold as a tablet or capsule, has been shown to have a low absorption rate and can create a laxative effect. Magnesium chloride (found in all Ancient Magnesium products) is viewed by many as the "master magnesium compound" due to its high potency and efficacy.
In just six weeks, transdermal magnesium can increase the body's magnesium levels equivalent to two years of tablet use*
* Further info can be obtained via Naturally Healthy Publications study references.
DISCOVER THE MANY
HEALTH BENEFITS

Unearth even more remarkable health benefits in your FREE DOWNLOAD of Robert Redfern's Magnesium Manual below!
UNMATCHED RANGE: Ancient Magnesium is available in a wide variety of transdermal applications including…